A New Wave of Growth at TeraView
Cambridgeshire & Peterborough Combined Authority Business Board member Professor Aamir Khalid visited a world-first, homegrown Cambridge business to find out how loan support is helping them to take their growth to the next level.
TeraView is a company reflective of the unique business ecosystem which exists in the region. Born as a 'spin-out' from Toshiba and the University of Cambridge, it was co-founded by Sir Michael Pepper and Dr Don Arnone in 2001. Twenty years have since been spent developing patents and intellectual property on ways to use terahertz light for a range of commercial purposes.
Prof Khalid was given a tour of TeraView's new premises at Cambridge Research Park by Dr Arnone. The new base means it now has space to develop its manufacturing function and grow the business. The move from the more central location of St Johns Innovation Park was supported with a £120,000 Growth Fund loan via the Business Board.
The full press release is available to view here.
Designed for the coatings industry, the TeraCota 2000 sensor can determine the individual thickness of multiple paint layers on both metallic and non-metallic substrates and offers significant benefits over existing techniques.
The sensor is non-contact, suitable for working on curved surfaces and capable of performing horizontal and vertical line scans.
Further details of the system can be found on our website here.

TeraView's TeraPulse Lx system now contains Calmar Laser's high powered Mendocino fiber laser module.
With over 25 years of experience, Calmar's world-leading ultrafast fiber laser solutions ensure reliable and robust integration into TeraView's systems.
For more information contact TeraView or Calmar Laser directly.
Terahertz spectroscopic study of optical and dielectric properties of typical electrical insulation materials
Abstract
Researchers and engineers are constantly developing novel techniques to accurately measure the electromagnetic properties of electrical insulators. These properties provide useful information about the insulators' performance and aging degree, which may help users to take necessary actions to prevent potential risks to the safety and stability of electric power systems. In this study, terahertz (THz) time-domain spectroscopy (THz-TDS) is used to analyze the spectral absorption and dielectric dispersion of five electrical insulation materials viz. epoxy resin (PER), E-glass fiber-reinforced polymer-matrix composite (GFRP), cross-linked polyethylene (XLPE), electrical porcelain (E-PRL), and high temperature vulcanized silicone rubber (HTVSR), in the THz frequency range (0.1 THz-1.8 THz). The refractive index, absorption coefficient, and complex relative permittivity of each sample are experimentally measured using the THz-TDS system and theoretically calculated using the original Debye model (i.e., based on the relaxation process of the individual samples' dipoles). Experimental and theoretical results of the refractive indices and dielectric constants of the individual samples are highly correlated with 0.22% and 0.17% aggregate maximum errors, respectively. The values of dielectric constants and imaginary permittivities are found to be the highest and the lowest for E-PRL and XLPE, respectively. In terms of dielectric performance, XLPE exhibits the highest and most stable dielectric performance, followed by the E-PRL, whereas PER, HTVSR, and GFRP exhibit fluctuating and slightly less stable dielectric performance. This study shows the great potential of THz nondestructive testing (NDT) and structural health monitoring (SHM) for the defect detection and service life prediction of electrical insulators.
Full article available
here
.
Sensing Water Absorption in Hygrothermally Aged Epoxies with Terahertz Time-Domain Spectroscopy
Abstract
In the field of non-destructive testing, terahertz sensing has been used to analyze a wide range of materials where the most successful applications have involved materials that are semi-transparent to terahertz radiation. In this work, we demonstrate the sensitivity of terahertz time-domain spectroscopy to quantify water absorption in hygrothermally aged simple and commercial epoxy systems supported by conventional gravimetric analysis.
Full article available
here
.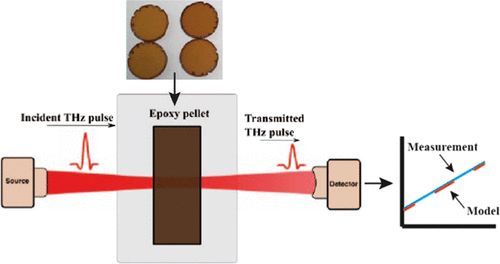 TeraView's Dr Philip Taday will be talking at the European Microwave Week 2022 in London, UK. The event will take place 2-7 April 2022.
Further information can be found on the event website
here
.
Would you like to partake in an online workshop?
TeraView are looking at conducting online workshops throughout the year.
Contact us if you are interested