TeraCota – Terahertz Coating thickness analysis
A Non-Contact, Multi-Layer Coating & Paint Thickness Sensor with Scanning Capability.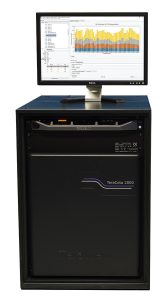 TeraView presents a film thickness gauge designed for the automotive industry. 
The sensor can determine the individual thickness of multiple paint layers on both metallic and non-metallic substrates and offers significant benefits over existing techniques.
The terahertz sensor is non-contact, suitable for working on curved surfaces and capable of performing horizontal and vertical line scans.
Based on terahertz technology, the sensor represents a significant leap beyond the current method of measurement for quality and process control in automotive paint application, and also provides significant economic and environmental benefits.
Unit Sensor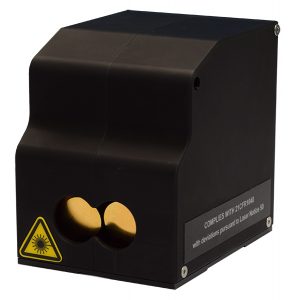 Production Features
Non-contact – no couplant required; operates on flat and curved surfaces, including windshield flanges.
High accuracy reporting of film thickness.
Single and dual sensor options.
Self-calibrating without the expense and time of sending samples to a third party.
Suitable for wet-on-wet preparations.
Industrialized form factor; designed for the automotive manufacturing environment.
Can be integrated with plant IT systems and existing robotic hardware.
Non-interpretive; automatic layer thickness calculation without operator input.
Optional vehicle position measurement unit to correct for body position repeatability errors.
Application Areas
Paint Systems
| | |
| --- | --- |
| Application Types | Liquid and powder coatings | wet-on-wet preparations | tri-coats |
| Basecoats | Solid | Pearlescent | Metallic (independent of hiding power) |
| Substrates | Metallic (steel, aluminium, etc.) | non-metallic (plastic, carbon fibre, etc.) |
Measurable Surfaces
| | |
| --- | --- |
| Curvature | Operates on both flat and curved surfaces |
| Accessible areas | Recessed areas, including window flange |
| Temperature range | From ambient to 150 °C (post bake) |
Comparison Table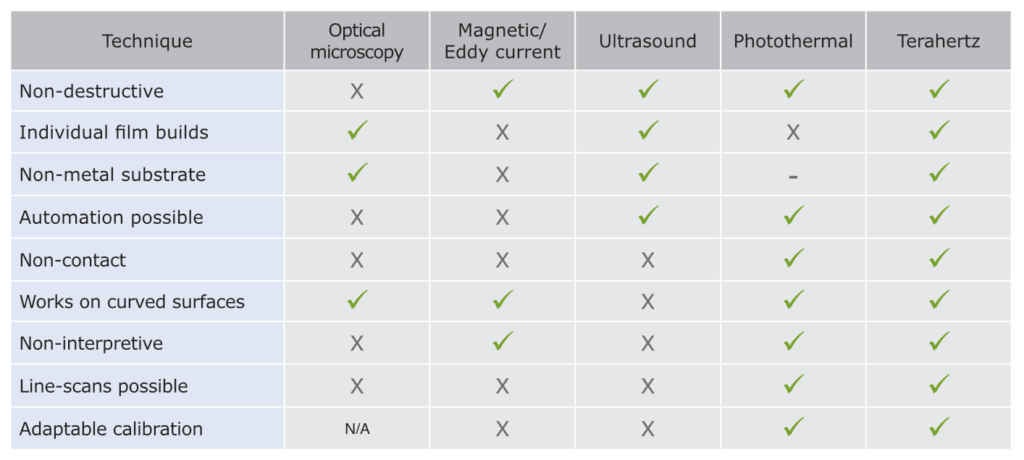 Technical Specification
Measurement
| | |
| --- | --- |
| Thickness Accuracy* | 1.5 µm |
| Minimum Thickness* | 5 µm |
| Sampled Area | Spot diameter of approximately 2 mm |
| Measurement Time | Typically 4 seconds per point (excluding alignment) |
| Sensor Positioning | Working distance to painted surface of 88 mm (± 0.15 mm) |
|   | Robot-mounted version requires angular positioning to within ±0.2° of normal incidence |
* typical values; dependent on individual paint type and properties
Environmental
| | |
| --- | --- |
| Dimensions (L×W×H) | Sensor head: 11.5 × 8.8 × 11.3 cm | Core unit: 59 × 55 × 77 cm |
| Rack mount modules | Optics Rack Assembly 4U, Electronics Rack assembly 3U, Processing PC 3U |
| Approx. weight | Sensor head: 1.4 kg | Core unit: 82 kg |
| Extension | Sensor-core separation of up to 15 m |
| Communications | Ethernet connection to fixed IP address on internal PC |
| Power requirements | 110 / 220 V, 20 A line power, earthed, via standard 3-pin connection |
| Operating temperature | 18 °C (64 °F) – 30 °C (86 °F) |
| Operating humidity | 20 – 80%, non-condensing |