TeraCota 3000
A non-contact, single or multi-layer thickness sensor with scanning capability
TeraView presents a polymer film thickness gauge designed for industry.
The sensor can precisley determine thickness of single or multi-layer polymer films.
The terahertz sensor is non-contact and capable of delivering both 'streaming' data in a production environment and point measurements in the laboratory.
Based on TeraView's proprietary technology, the sensor represents a significant leap beyond the current method of measurement for quality and process control in the polymer industry.
TeraCota 3000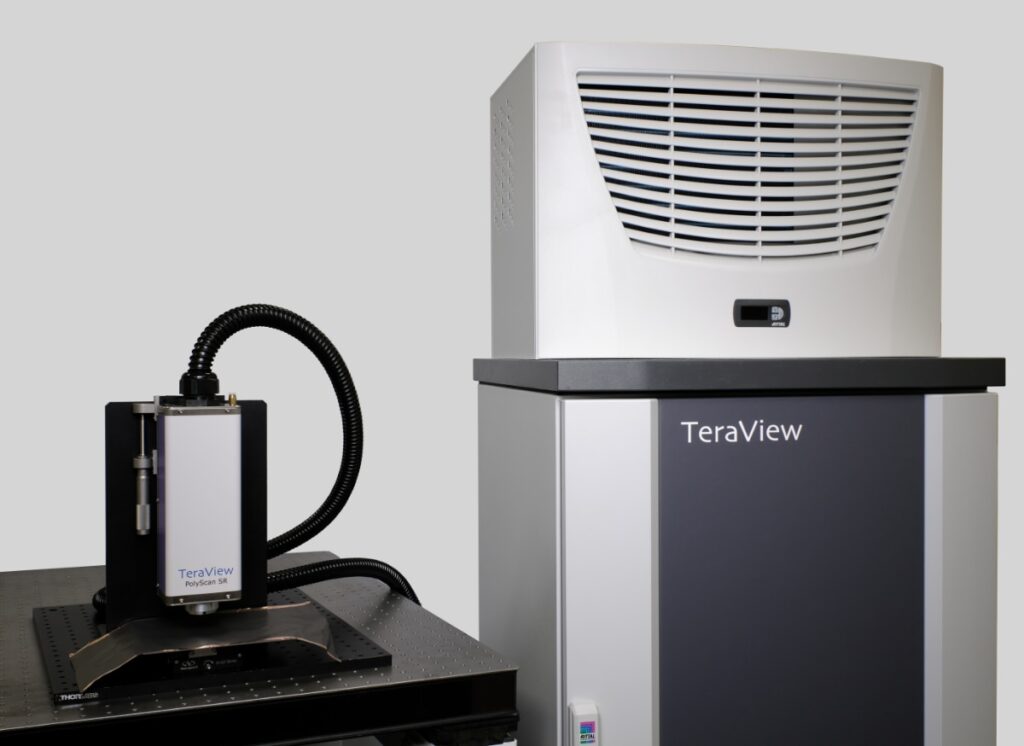 Production Features
Works with both single & multi-layer polymer films.
Non-contact, no marking or damage to coating material.
High accuracy reporting of thickness.
Single sided sensor operation.
Industrialised form factor.
Can be integrated with plant IT systems via network communications (ProfiNet, Ethernet/IP).
Non-interpretive; automatic parameter calculation without operator input.
Suitable for both production or laboratory deployment.
Technical Specification
Measurement
| | |
| --- | --- |
| Thickness Accuracy* | 1 µm |
| Minimum Thickness* | 10 µm |
| Sensor Positioning | Available in 18 mm & 35 mm focal distance sensor |
| Line Speed | 40 m per minute demonstrated, higher speeds possible |
* typical values; dependent on production materials.
Environmental
| | |
| --- | --- |
| Dimensions (L×W×H) | Sensor head: 225 × 85 × 70 mm | Core unit: 590 × 550 × 770 mm |
| Rack mount modules | Optics Rack Assembly 4U, Electronics Rack assembly 3U, Processing PC 1U |
| Approx. weight | Sensor head: 1.4 kg | Core unit: 82 kg |
| Extension | Sensor-core separation of up to 15 m as standard |
| Communications | Ethernet connection to fixed IP address on internal PC |
| Power requirements | 110 / 220 V, 20 A line power, earthed, via standard 3-pin connection |
| Operating temperature | 18 °C (64 °F) – 30 °C (86 °F) |
| Operating humidity | 20 – 80%, non-condensing |