TeraCota 3500
Advanced non-contact measurement system for EV Battery production
TeraView presents a film thickness & density gauge designed for the battery industry.
The sensor can simultaneously determine both thickness and density for both cathodes and anodes in battery manufacturing. Conductivity can also be included, all in one sensor.
The terahertz sensor is non-contact and capable of delivering both point measurements in a laboratory application or 'streaming' data in a production environment.
Based on TeraView's proprietary technology, the sensor represents a significant leap beyond the current method of measurement for quality and process control in the battery industry.
TeraCota 3500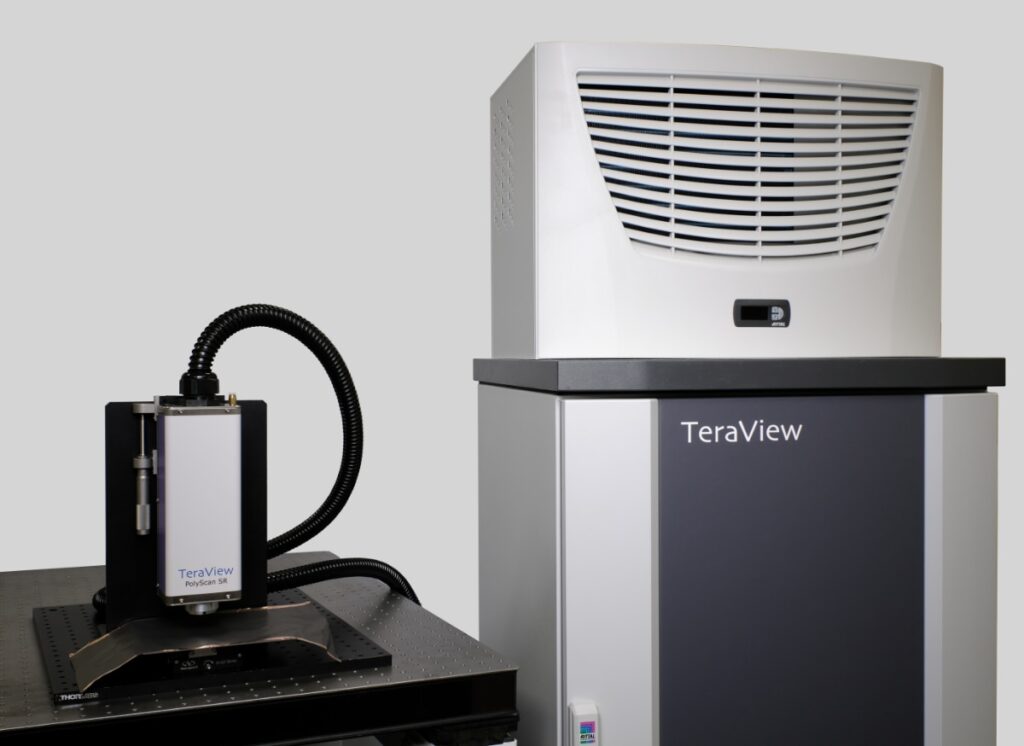 Production Features
Works with both anode & cathodes.
Non-contact, no marking or damage to coating material.
High accuracy reporting of coating thickness, density & conductivity.
Single-or-dual sided sensor options.
Industrialised form factor; designed for battery manufacturing industry.
Can be integrated with plant IT systems via network communications (ProfiNet, Ethernet/IP).
Non-interpretive; automatic parameter calculation without operator input.
Suitable for both laboratory or production deployment.
Technical Specification
Measurement
| | |
| --- | --- |
| Thickness Accuracy* | 1 µm |
| Minimum Thickness* | 10 µm |
| Sensor Positioning | Available in 18 mm & 35 mm focal distance sensor |
| Line Speed | 40 m per minute demonstrated, higher speeds possible |
* typical values; dependent on production materials.
Environmental
| | |
| --- | --- |
| Dimensions (L×W×H) | Sensor head: 225 × 85 × 70 mm | Core unit: 590 × 550 × 770 mm |
| Rack mount modules | Optics Rack Assembly 4U, Electronics Rack assembly 3U, Processing PC 1U |
| Approx. weight | Sensor head: 1.4 kg | Core unit: 82 kg |
| Extension | Sensor-core separation of up to 15 m as standard |
| Communications | Ethernet connection to fixed IP address on internal PC |
| Power requirements | 110 / 220 V, 20 A line power, earthed, via standard 3-pin connection |
| Operating temperature | 18 °C (64 °F) – 30 °C (86 °F) |
| Operating humidity | 20 – 80%, non-condensing |