TeraView is the world's first and leading company solely focused upon the application of terahertz light to provide solutions to customer issues.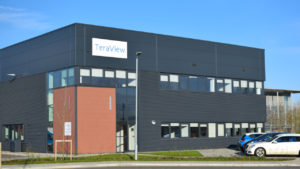 A spin out from the Toshiba Corporation and Cambridge University, TeraView has developed its proprietary technology across a number of markets. These include fault analysis and quality assurance for semiconductor chips used in mobile computing and communications, as well as non-destructive inspection of high value coatings used in the automotive, pharmaceutical, food and solar industries. With the largest number of systems in the field, as well as applications know-how made available to customers via a team of dedicated scientists using intellectual property and knowledge in peer-reviewed scientific publications, TeraView is uniquely placed to deliver the business benefits of terahertz to customers.
TeraView world firsts:
1st to apply terahertz in biomedical imaging.
1st to image diseased tissue (dental caries).
1st to image cancer using terahertz imaging.
1st to launch terahertz failure analysis and inspection tools in the semiconductor industry.
1st to measure multi-layer coatings on automobiles, pharmaceutical tablets and other high value products.
TeraView applications:
TeraView was spun-out of Toshiba Research Europe in April, 2001 by its co-founders, Sir Michael Pepper (CSO) and Dr. Don Arnone (CEO), to utilise the intellectual property and expertise developed in sourcing and detecting terahertz light, using innovative technologies. TeraView maintains close links with the Cavendish Laboratory at the University of Cambridge, where modern terahertz technology was pioneered in conjunction with the team at TeraView, as well as links with other universities and research institutes in the EU, US and in Asia.
The Company has an intellectual property portfolio containing 70 granted patents which it provides to its customers, as well as over 100 peer reviewed publications covering TeraView's innovations in both terahertz source/detector technology as well as terahertz market applications.
TeraView is headquartered in Cambridge UK, but has sales and technical support resources in the US, Korea and other countries. Sales and customer support are available throughout the Far East, North America and Europe either directly or through our network of agents. TeraView prides itself on the quality of its on-going support for our customers, and we seek to work collaboratively with them to ensure that they get the maximum benefit from our products.